Enterprise Resource Planning (ERP) software improves the efficiency of operations in production-based or distribution businesses. It works by merging separate applications for accounting, procurement, project management, human resources, risk, and supply chain activities into one platform—and consolidating all information under one umbrella.
What is Enterprise Resource Planning (ERP)?
Instead of consulting five (or more) technologies for an answer, a modern ERP can tie your primary business functions together in a single source of truth. The right system removes the disconnect between front-of-house and back-of-house and enables you to access the latest data in real-time while collaborating with your team effortlessly.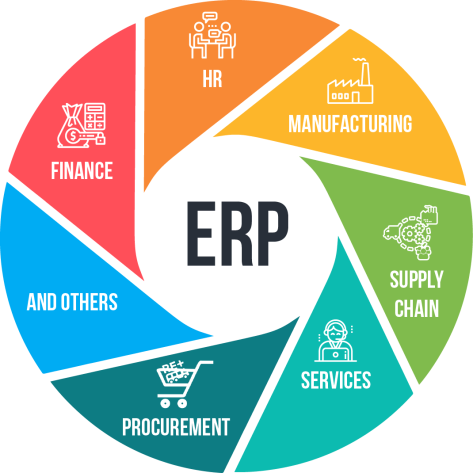 Users can manage, edit and share product information from multiple sources to avoid data silos that usually result in content loss, duplication, or inaccuracies. This way, you can increase your data quality and make more confident, profit-driving decisions.
What are the different types of ERP?
There are many solutions out there, each with its own costs and benefits.
When choosing a system, you will need to unpack each option's cost, customization, complexity, and implementation setup and measure them against your business size and needs. For example, the different types of ERP models are cloud-based, on-premise, and hybrid. But they all promise improvement and resiliency.
In terms of the top industry players, you are looking at:
SAP B1, R/3, and S/4HANA
Oracle Cloud ERP
Brightpearl
NetSuite ERP
Microsoft Dynamics 365 and GP
What departments benefit most from ERP?
Generally speaking, more companies would run at a loss if it weren't for an ERP system.
For example, one study finds that, on average, an ERP can reduce overall operational costs by 23% and administrative costs by 22%.
Not to mention, people spend more than 90% of their week on data-related activities, which, if you read between the lines, is a massive loss in time to market that could be spent elsewhere.
While this tool is beneficial for many teams, these have yielded the biggest results:
Commerce: In retail, be it online or in-store, you're required to deliver exceptional customer experiences in a timely manner. If you're manually processing and emailing spreadsheets back and forth, you're bound to encounter duplicates, mistakes, and poor customer service. Thanks to modern ERP systems, commerce businesses are able to scale by streamlining activities, unifying data, and providing an exceptional customer experience. You can reduce overheads and increase sales by managing marketing and sales assets, inventory management, fulfillment, and much more in one place.
Finance: When you're required to perform manual data entry on accounting or any financial reporting, the last thing you need is a typo. Not to mention, scattered spreadsheets don't allow you to see an overview of your finances, which means that you cannot rely on your data. What if there are duplicates? An ERP enables you to manage all this information in one centralized place so that it's easier to make decisions on demand planning and forecasting.
Human resources: People management can get overwhelming when you're juggling payroll, leave schedules, recruitment, legal documents, training, and much more. You can automate certain tasks and anticipate issues by managing data in one place. This will free up time to improve other areas of HR.
Manufacturing: In manufacturing departments, there's a constant flow of data between internal employees and external suppliers, distributors, resellers, and the list goes on. If you rely on manual data entry, you cannot monitor and respond to sudden changes in the supply chain. Not to mention, you can also look at costs holistically and optimize production to increase profits.
Supply Chain:A critical area of the supply chain is inventory management. This department sits on a goldmine of information, for example, the sales performance of items, purchasing, and logistics. This information filters through to sales and marketing departments, allowing teams to make more accurate business decisions. By tracking all this information in an ERP system, you can minimize costs and maximize working capital to aid business efforts.
When do you need an ERP?
At some point in your business, you'll come to the realization that you need help.
And by help, it's not an extra pair of hands. It's an optimization solution.
An ERP system can do things that humans physically cannot. These tools bring business processes together and optimize operations so that employees can perform better.
So, if you've been struggling with any of these areas, an EPR can help.
You're relying on spreadsheets to manage and store data
Your spending is rising, but your bottom line is decreasing
Internal departments are disconnected and work in silos
You're sitting with excess inventory, or you constantly order too little
Inability to meet customer expectations in real-time
Existing tech systems don't compliment each other
Unable to make intelligent decisions due to poor data
Unable to scale operations and respond to market disruption
What are the limitations of an ERP system?
With every tool, there are pros and cons, unfortunately. As technology and customer demands change daily, it's impossible to meet every need with one system. But that's why companies tend to invest in one system with multiple capabilities and third-party add-on systems to close the gaps. With an ERP tool, there are a few limitations:
Pricing: SMB businesses don't have the budget to invest in a system that offers all the bells and whistles they need. When considering a partner, be sure to put together an ERP system requirements checklist that suits your business needs.
Complexity and training: Depending on the tool you use, the interface might be complex. Often, teams need some level of tech-savviness to operate the tool, so be sure to take this into consideration when it comes to looking for a partner. Ultimately, you want a system that you can count on, and if you feel it's too complicated to operate, you will not be using it to your full potential.
Implementation: It's common to overestimate data and processes, which leads to misalignment. This causes delays, slow implementation, and frustration. Regardless of what type of system you choose (cloud-based, on-premise, or hybrid), you need to set aside time to learn the system before using it.
How Intuendi can integrate or replace an ERP System
Ituendi has a integration to NetSuite, the world's most used cloud ERP solution.
If you're using this tool, great, but if not, we have workarounds that will still enable you to improve the effectiveness of your supply chain and speed up business growth.
How it works is Intuendi sits on top of your Enterprise Resource Planning solution and empowers it with advanced inventory management capabilities that a standard ERP lacks. It allows you to gain access to instant demand analytics, sales forecasting, inventory optimization, and purchase order management. As a result, these significant changes guarantee efficiency, improved sales, and customer satisfaction.
Get a demo to learn about Intuendi solutions, pricing, and implementation.