PURCHASE ORDER MANAGEMENT SOFTWARE
Orchestration and automation for your order management.
Save time with our complete order management functionality and achieve a faster purchasing workflow. Intuendi generates and suggests orders to accurately plan your next replenishments with the right quantities at the right time.

Smart replenishment suggestions
Intuendi prepares orders filled with optimized quantities and perfectly compliant with your purchasing routine, no matter if it is daily, weekly or monthly. Orders are easily pushed to your tool of choice, ERP, or exported and sent to suppliers via email.
Intuendi's AI capabilities optimize your ordering process for a clever order management. Intuendi suggests purchases to suppliers for raw materials or finished goods, and parent to child or same-level locations stock transfers for a balanced stock allocation.
Our automated suggested orders will take into account all supplier constraints, e.g. minimum order quantities and budget, packing units, pallets, and more. Get orders pre-computed for your revision and approval, and be confident that you'll meet your customers' demand.
Get your teams
synchronized — effortlessly
Superb Order Management for an advantageous, optimized, and profitable purchasing process.
Designed to turn your actions
into a stroke of genius.
Advanced purchasing for forward-thinking businesses.
Automated Order Suggestions
Fully automated orders timely suggested by our AI for your review and approval. Get future orders organized by supplier and preferred destination for a more accurate purchasing process. Intuendi gives you the capability to manage orders and act in real-time, all from the comfort of our app.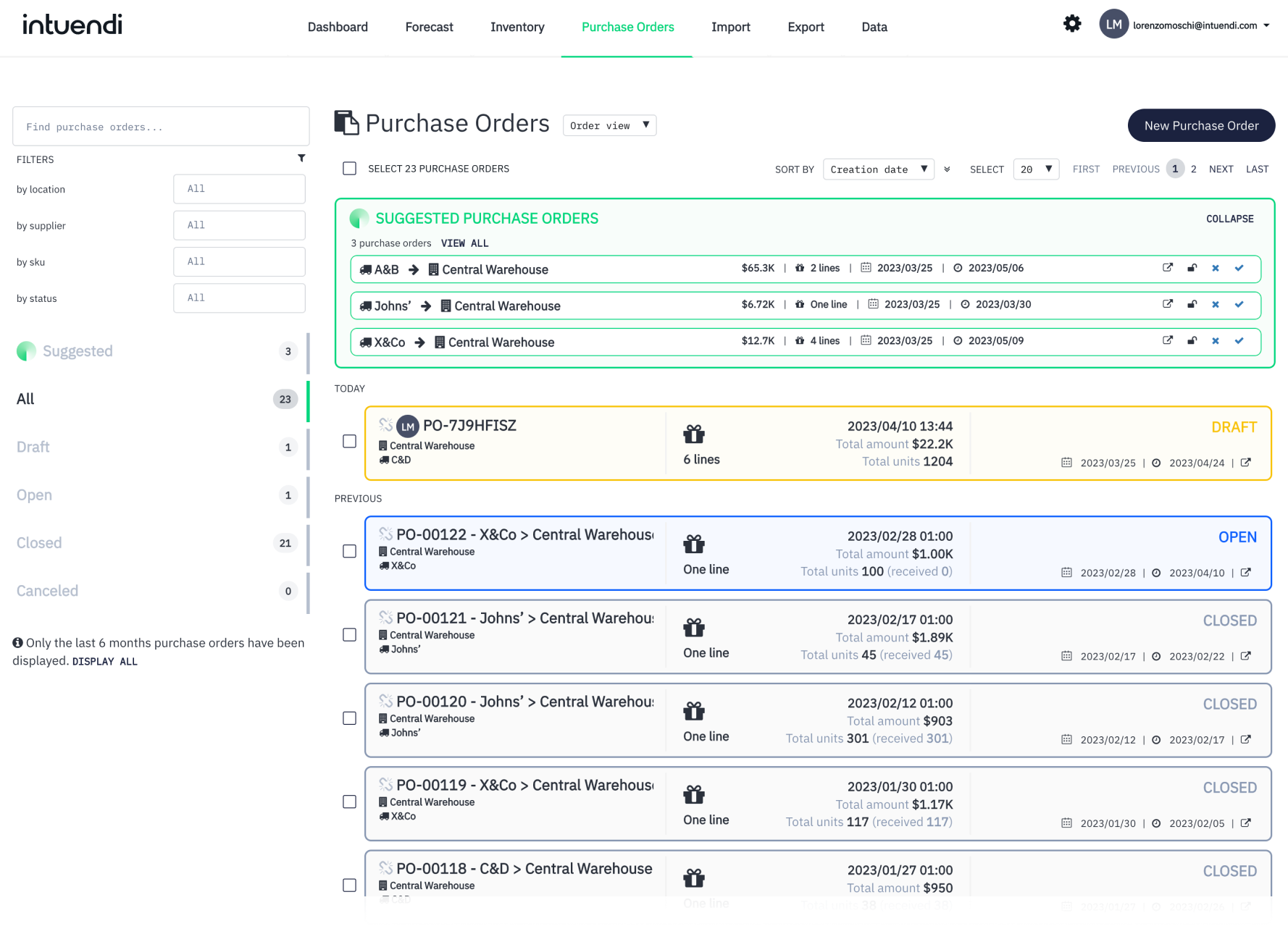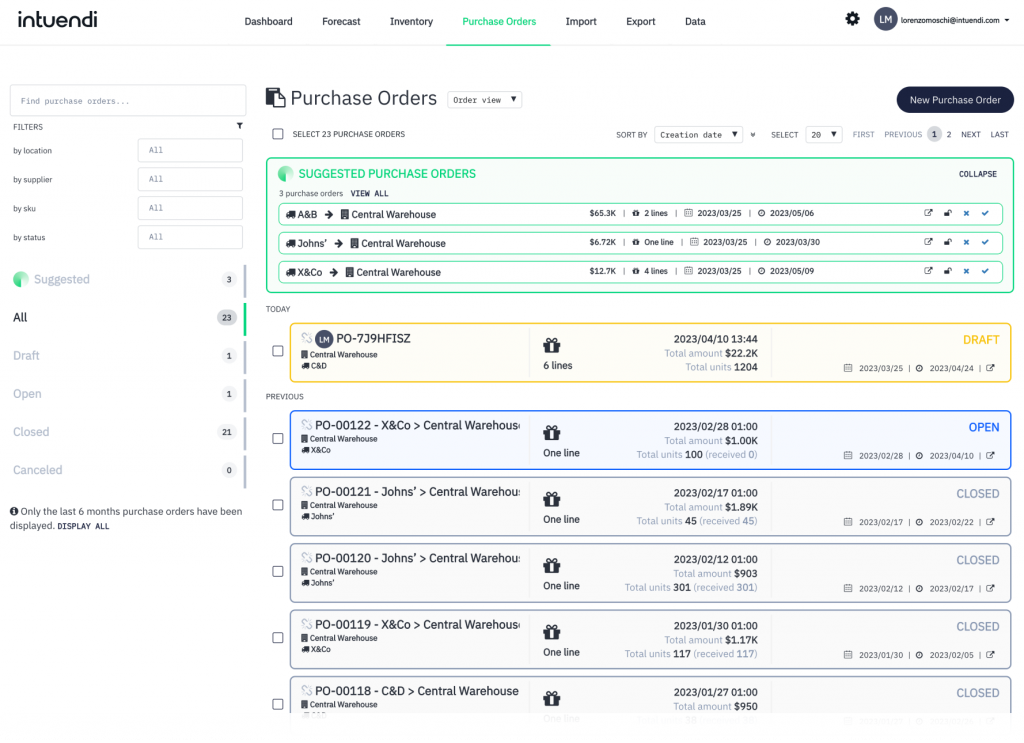 Work smarter: Intuendi highlights relevant sales insights and gives you the ability to modify order lines with a few clicks to create the perfect order. Our flexibility works with you on what-if scenarios (ETA, coverages, etc), to proactively react in case of supply chain events that could have an impact on your orders.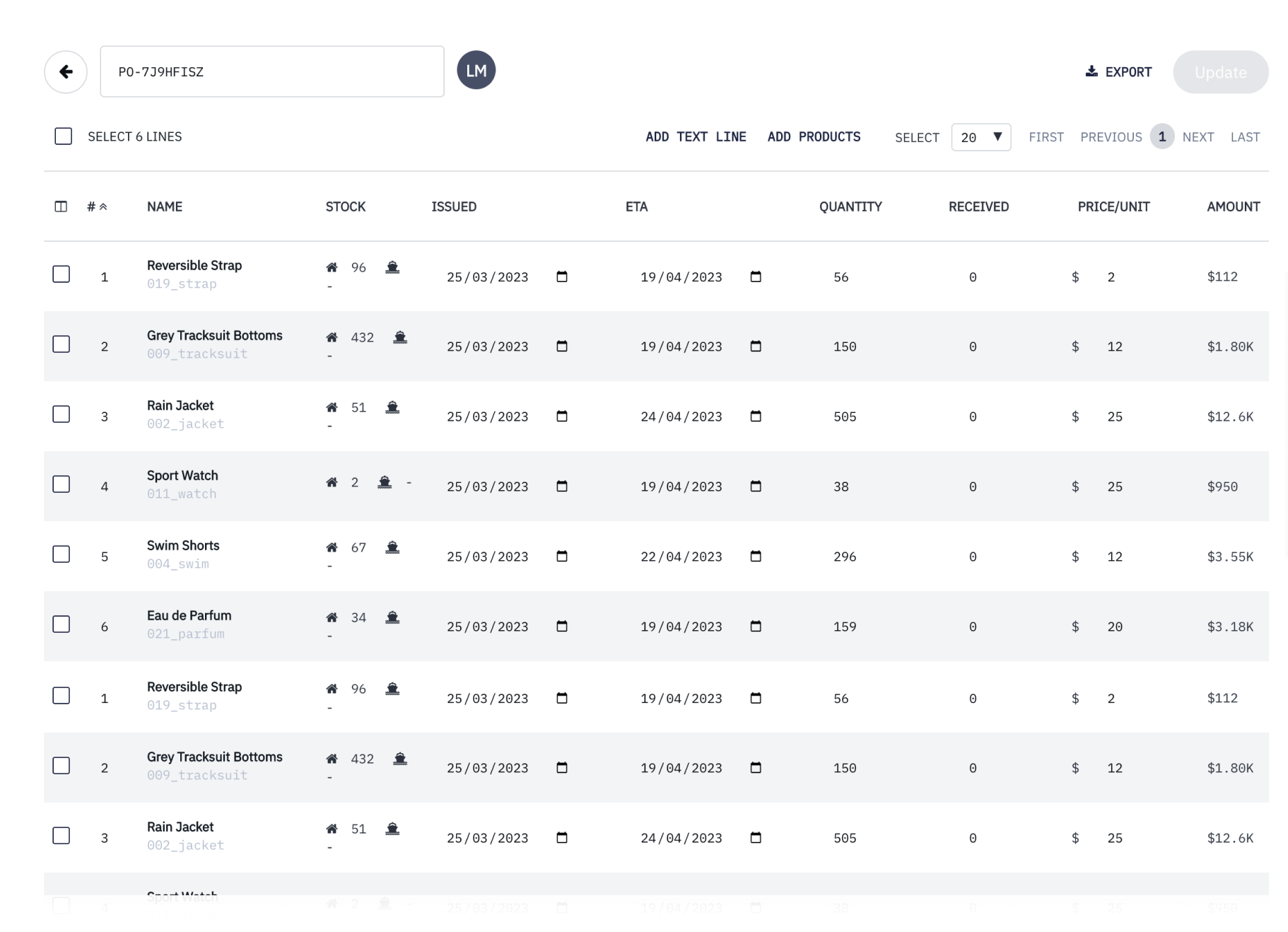 Purchase, Production and Transfer Orders
Handling multiple orders has never been easier. Intuendi gives you orders for production to request all components and materials, purchase orders to your suppliers for finished goods, and transfer orders between parent and child or same level locations. Straighforward and uncomplicated.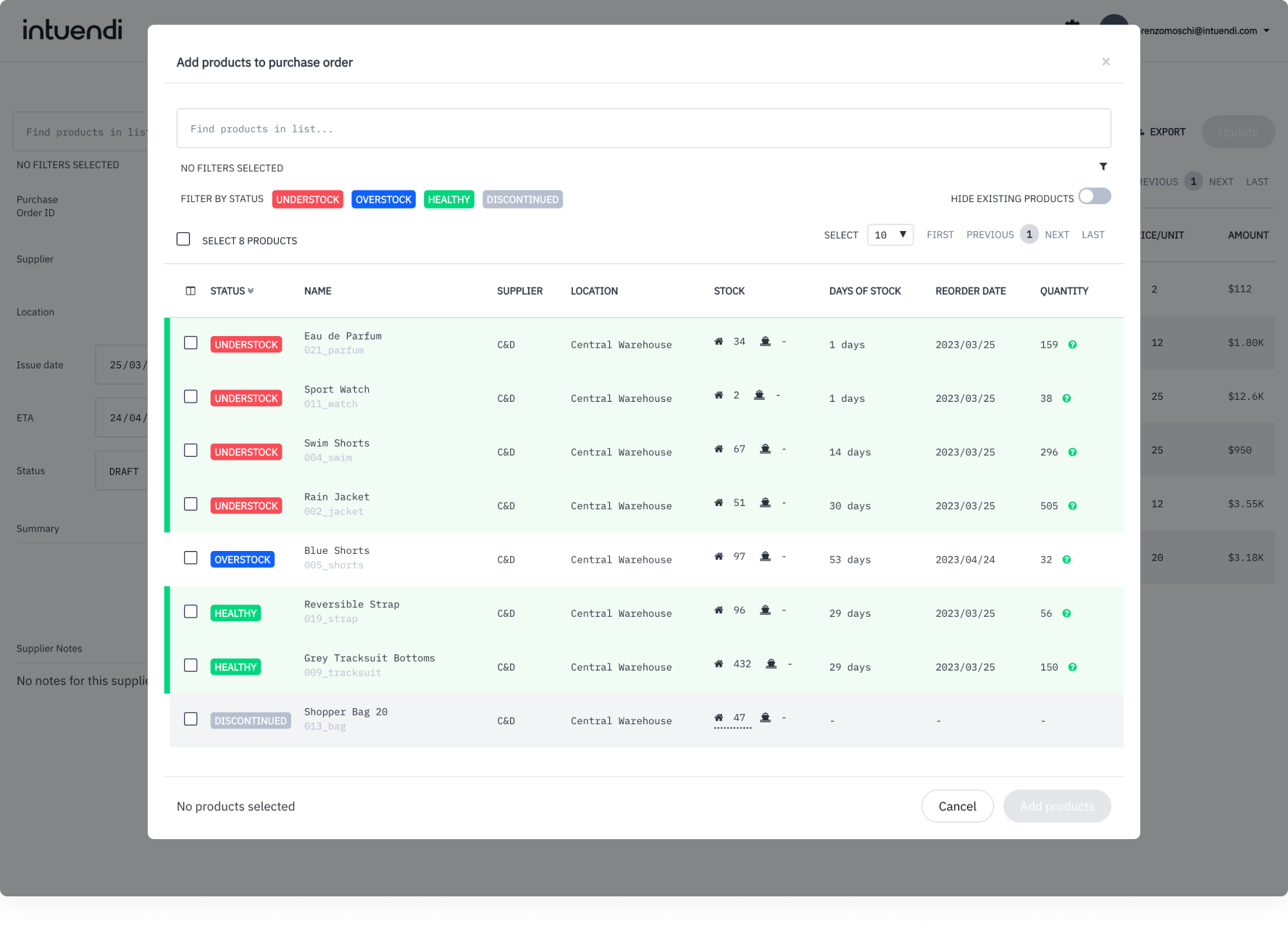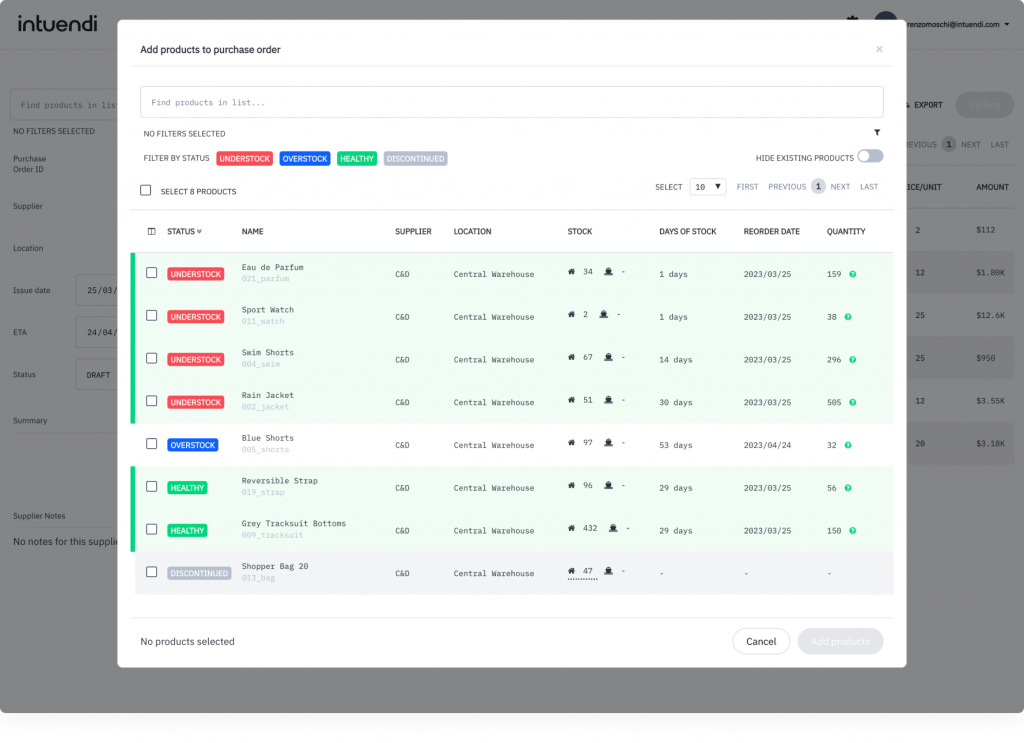 With our enhanced order suggestions you'll maximize the container(s) fulfillment. Intuendi will reflect any orders edits and display in real-time the container's space estimated fulfillment. Our unique mix of techonology and AI will not only reduce your spending but also your impact on the enviroment.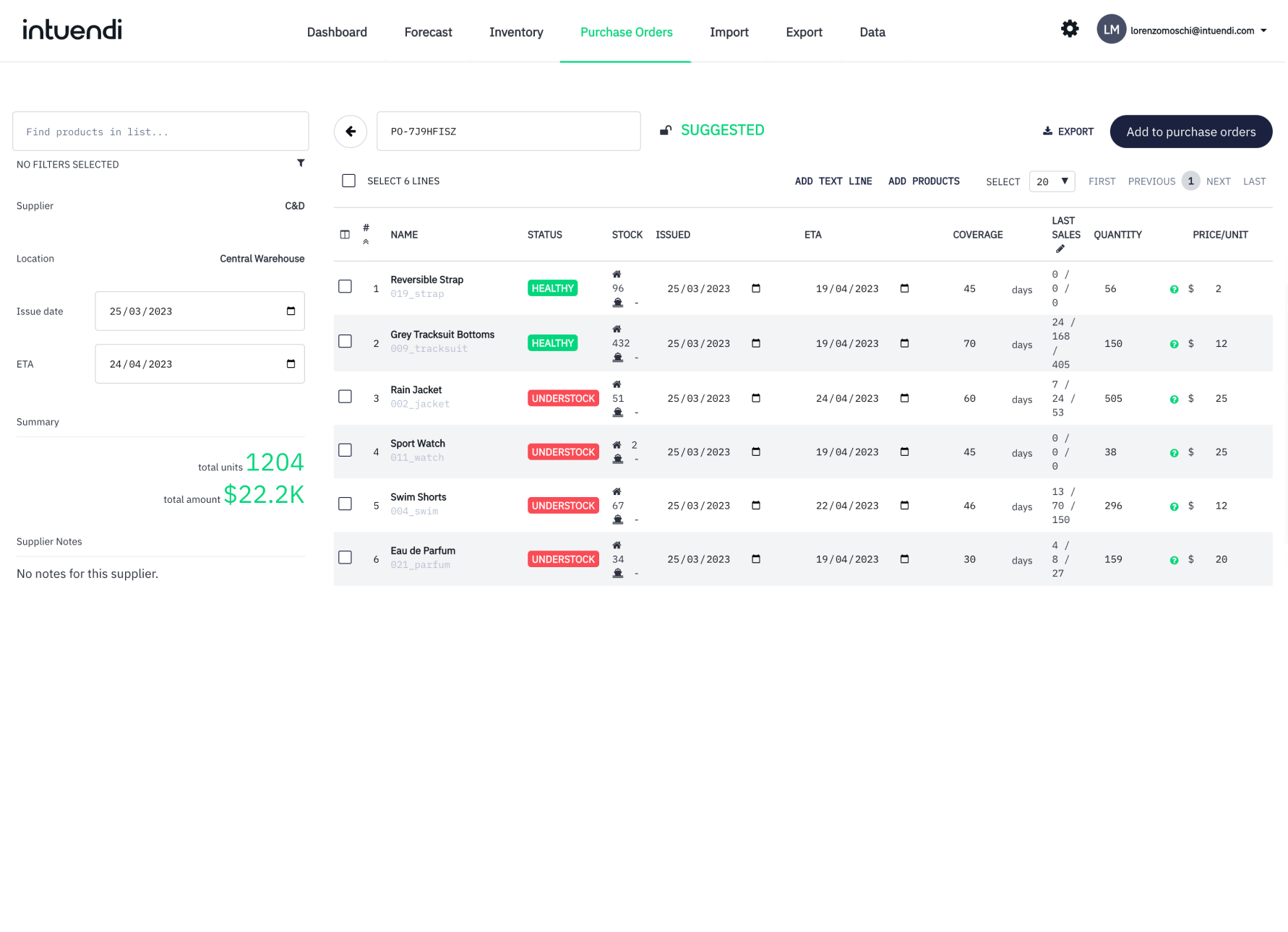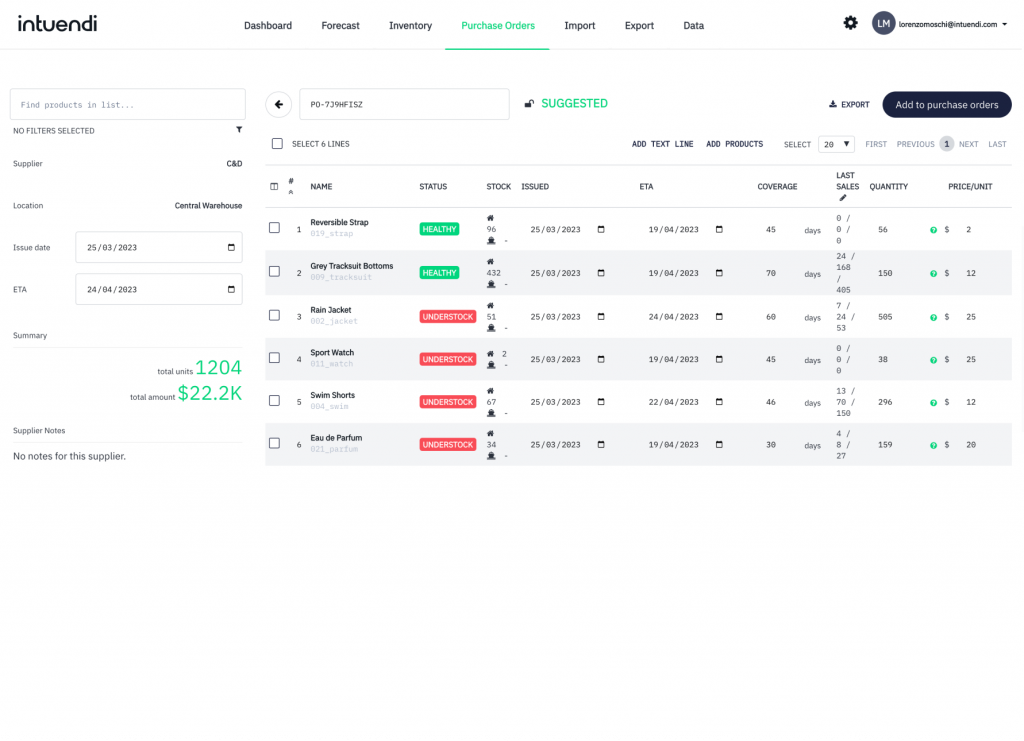 "Intuendi has been a game-changer for my supply chain management. The accuracy of demand and inventory planning with Intuendi has been impressive, leveraging advanced algorithms to generate accurate forecasts and optimization recommendations."
Integrated like an orchestra
Intuendi provides Demand Forecasting software
Estimate your future Demand with our AI and Machine Learning technology.
Get the right replenishment at the right time with real time visibility of your inventory
Key concepts, here to support you
What is a purchase order?
A purchase order (aka purchase requisition) is a document issued to the seller (supplier) for the sale of specific product(s) to be delivered in the future.
What are the types of orders?
There are 3 types of orders:
purchase orders, used for transactions between a buyer and a supplier;
production orders, used to produce an item/kit
and transfer orders, used for stock movement across locations.
Why supplier order management?
This activity monitors and manages all the orders to your suppliers accross your network by instantly giving you an overview of your orders in real-time including ETA, quantities and cost.