INVENTORY OPTIMIZATION SOFTWARE
Orchestration and automation for your inventory management.
Have your best-sellers always available and make sure your slow-moving products do not accumulate into excess stock. Get real-time estimates of your inventory status to avoid risks of stockout and overstock

Smart inventory optimization
Always have the right level of inventory with an up to date estimate of the stock needed. With our real-time stockout risk analysis you'll know what to do to meet the demand without
accumulating overstock. Free up your capital locked by any excess stock.
Best sellers and slow movers
Best sellers and slow movers should not be treated equally. We differentiate them with our innovative process plus probabilistic forecast, service levels and all replenishment constraints (MOQ, PU, shipping interval, and more) for a better fullfiment based on item classification.
In case of single location or a complex network of warehouses, Intuendi estimates new replenishments and when needed optimizes the stock you already have for an intra network stock balancing. With us you'll always have the smartest inventory allocation.
Have the right inventory
available — always
Don't stress over lost sales anymore! Your optimal stock levels will be identified to get the right stock quantities at the right place.
Designed to turn your actions
into a stroke of genius.
Advanced inventory optimization for forward-thinking businesses.
Get real time visualization of all your products and their availability performance. By carefully mixing forecast, service level, desired coverage, and other variables, you'll get an exeptional view of how your stock evolves over time, that shows incoming orders and lets you know the best time to replenish.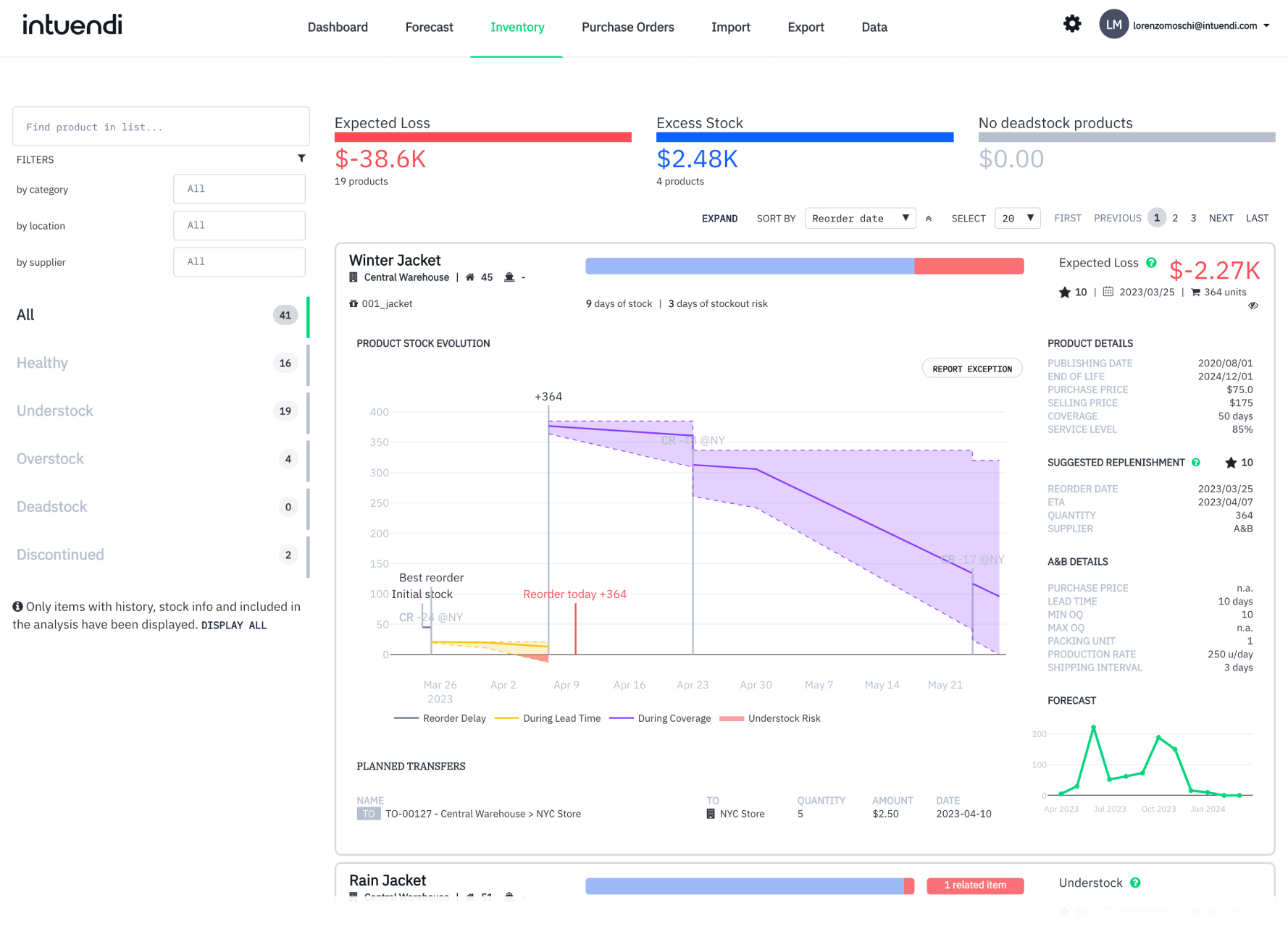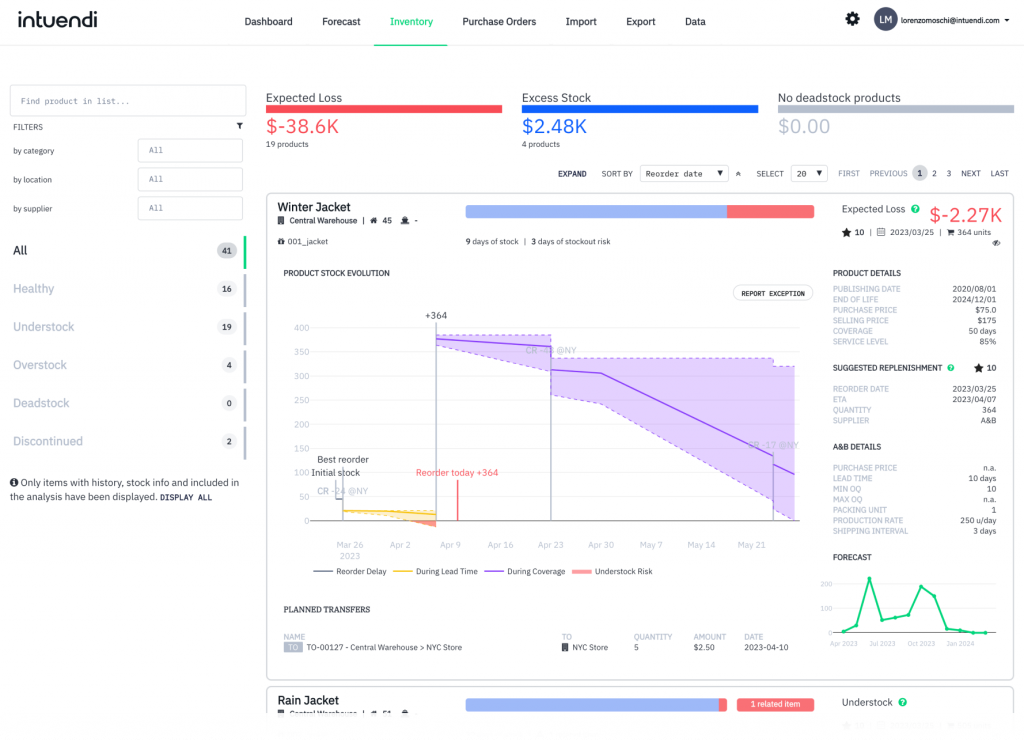 Multi-Echelon Optimization
Our analysis extends to complex networks too. Intuendi simulates in advance the replenishments requested by local warehouses and stores, and makes sure your parent locations always have the right stock to cover mid to long term planning. With us, you'll satisfy the demand of your entire network.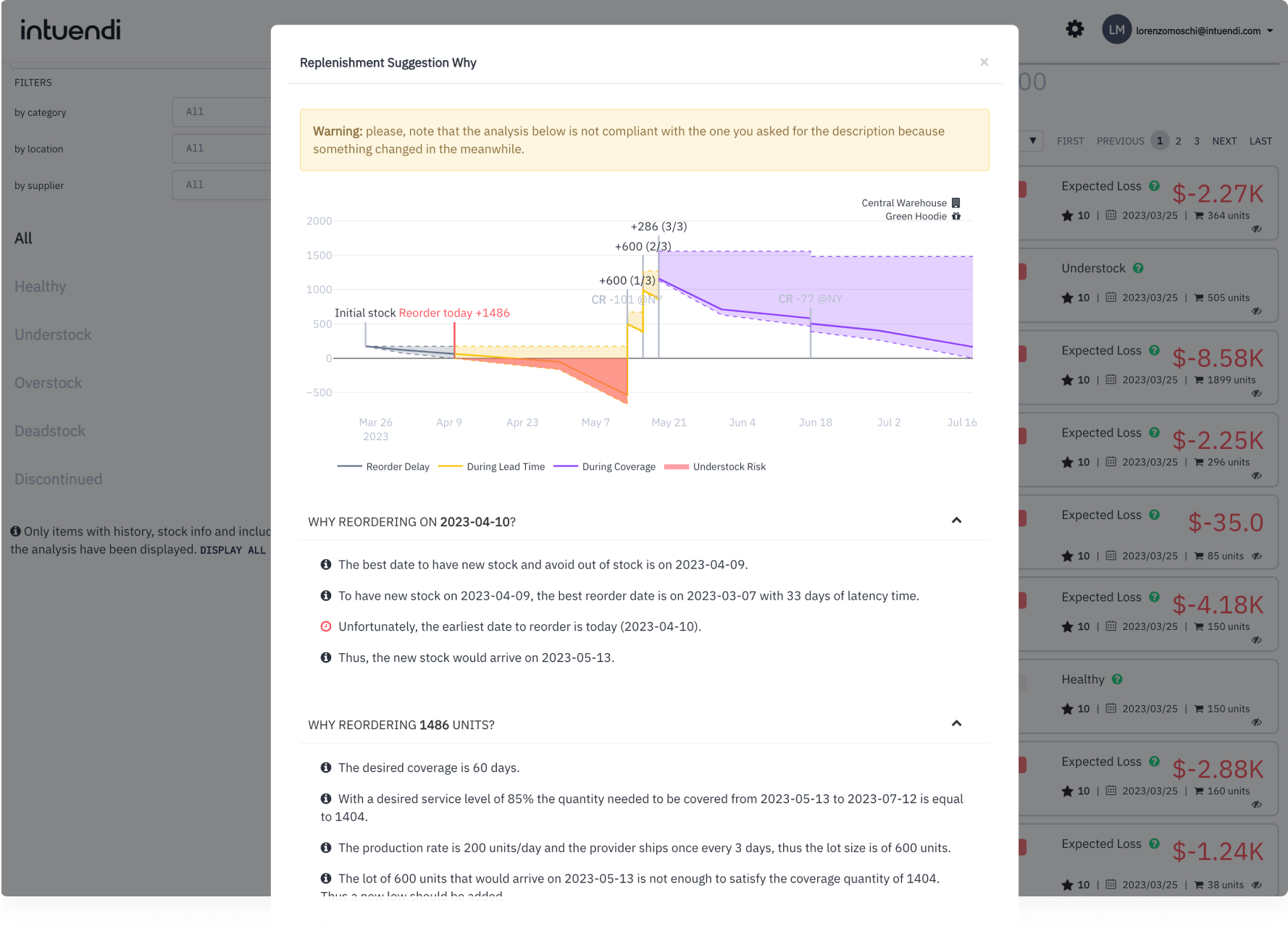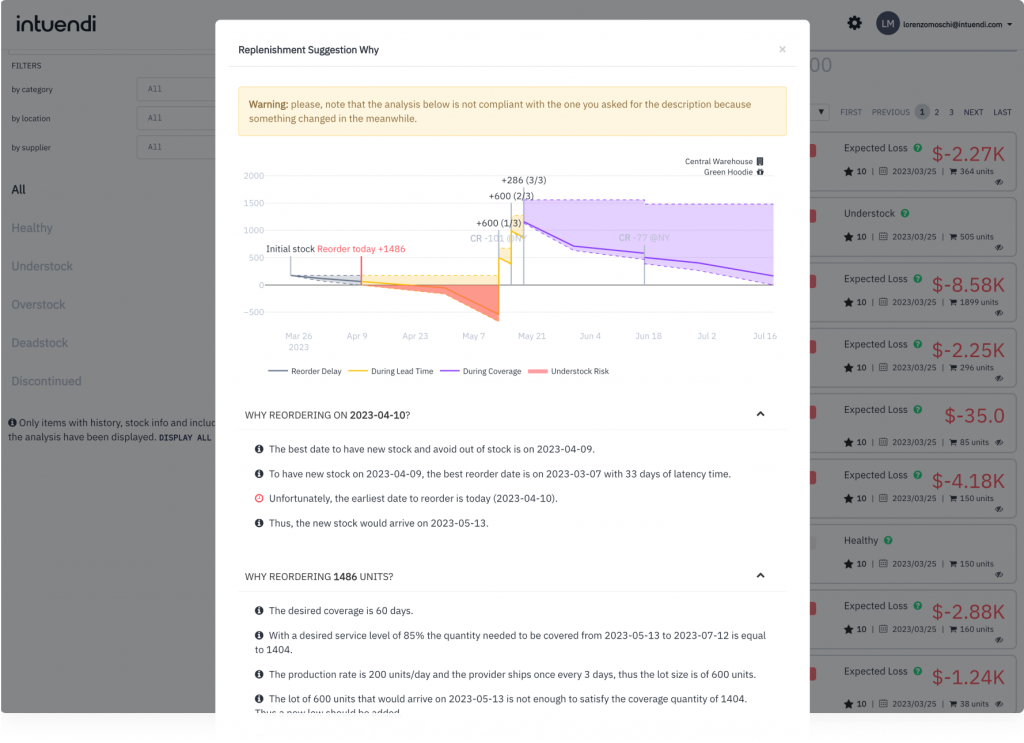 Filter, Search and Analyze Your Stock
Unleash the stock performance analysis to its full potential with our superb filtering and sorting capabilities. Unlimited visualization options let you group and search your catalog, whether you want to focus on a brand, category, or an SKU, to slice and analyze the inventory KPIs for an effortless replenishment.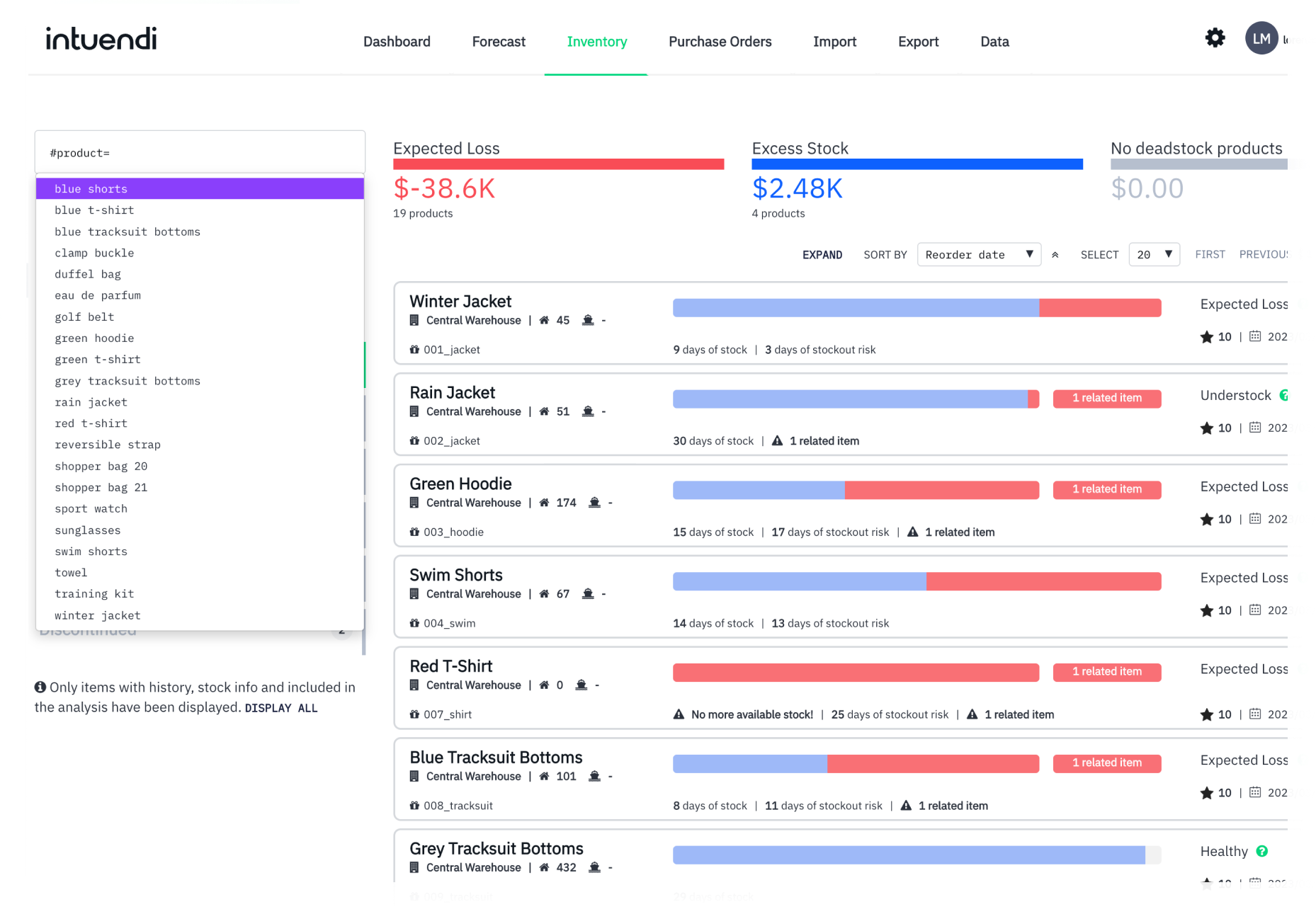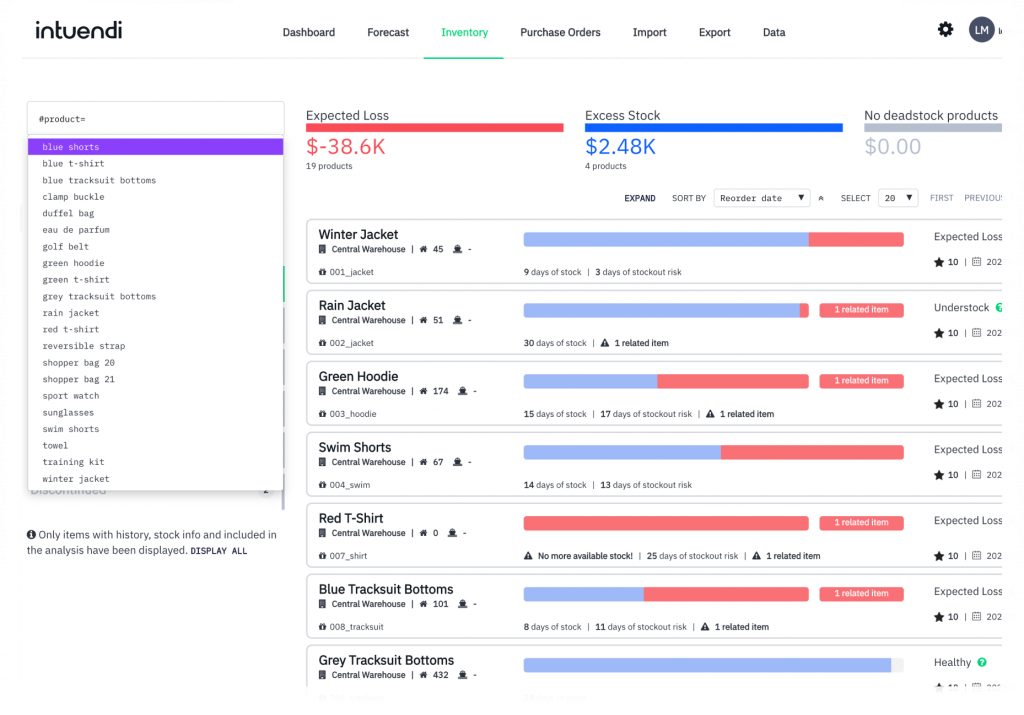 "Our buyers use Intuendi every day to estimate inventory needs, so we know what and how much to buy to keep our standards high and keep customers happy."
Integrated like an orchestra
Intuendi provides Demand Forecasting software
Estimate your future Demand with our AI and Machine Learning technology.
Our PO functionality is here for a faster and unmatched purchasing workflow.
Key concepts, here to support you
What is inventory optimization?
Inventory optimization is attaining the perfect balance between demand and supply to avoid stockouts (loose sales) and overstock (lock capital on storage) and increase the ROI.
How to optimize your inventory
The best way to optimize your inventory is by implementing the right technology to track inventory status in real time, forecast demand and automate orders.
What is multi-echelon optimization?
Multi-echelon inventory optimization focuses on identifying the correct levels of inventory across the entire network by taking effective lead times across suppliers, warehouses and stores where inventory is kept.